certification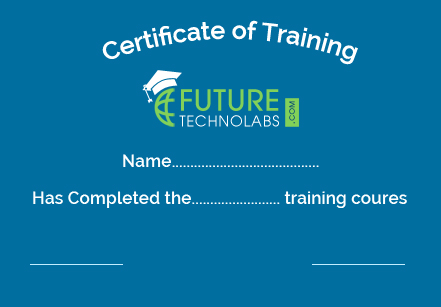 Get your dream job with our certificate courses
The identification of a valid and a good course is the certificate that you get after completing it. Everyone today is trying to get their hands on the best job in the market. However, the economy only favors those who have a certificate and the right kind of qualification to back them up. This is why, we, at FutureTechnolabs training ensure that you not only get the most hands on and industry specific training but also an internationally valid certificate along with.

Our training methodology is very different from other training institutes. We pride ourselves on having some of the best faculties from around the world. Our trainers, here at FutureTechnolabs Training centre aren't simply professors and teachers. They are actual industry professionals, all with over a decade of experience that helps them impart very specific and practical knowledge to our students.

Regardless of whether you are a beginner or someone simply trying to hone their skills for a better future, we ensure you that the kind of courses we offer will help you become a smarter and more independent IT professional.

Our training facility is one of the most technologically advanced training units. We have all the necessary equipment and necessary tools for making the best IT professional out of you. Our certificate is your stepping stone to success.

Certification courses we deliver
PHP certification We provide basic and fundamental training for beginners so that they can understand the concept of PHP and use their PHP training to build basic PHP websites. Our certificate along with, certifies that our student has undertaken this course.
PHP Advanced Certification This course is post the beginner's course. This course helps our students get into the nuances of building an unbelievable powerful website to get the best jobs that you have always dreamt of.
Android Certification The Android market is booming like never before. Our Android certificate course is one that enables our students to make the most of the Android surge. We impart practical Android courses to allow our students to create the perfect Android apps!
iOS certification An app can't be successful unless you have an iPhone version of the same. Our training course is designed to help you create some of the most exciting iOS apps. The demand for iOS app developers and designers is pretty high in the market, and we allow you to make it a success.
So, what are you waiting for? Get enrolled in one of our certification courses and show off your expertise to land that dream job! Contact us to know more about our certification courses and we will be glad to help you.